Well, my excellent travel karma bubble was bound to burst at some point so it might as well of happened in Rome! Of course our troubles weren't too great (it could have been way worse!) and we knew there was Italian wine waiting at the end of it so it all worked out eventually. And I also was able to come to a few conclusions about our upcoming travels.....but more on that later. I have to tell about our first travel fiasco story.....
We were set to arrive in Rome at noon on Friday. Then we would meet our AirBnb host and waltz our way over to the Vatican for
our 2:30 slot
to the museum. Easy peasy right?! My only worry was that a taxi driver would try and rip us off taking us to our destination! Even though our flight was 20 minutes late, I still was optimistic. Well those small worries quickly turned into larger ones when we arrived and the taxi drivers told us they were unable to get us to our destination because of a transportation strike going on in the city center. What.
So back into the airport we went to buy bus tickets that would only get us to the train station. We would then still have to find a way to our apartment from there. The next bus wasn't until 1:30!!!! Ugh. I did not plan on this. So we went outside to find the 'bus-a shuttle-a' (Italian accent...swoon) guy and get some tickets. There was a huge crowd waiting for this said bus and it was hot. We were bundled up in our England weather garb and the Roman sun was melting us under all of it. First moments in Italy....not great.
Our tickets for the bus said 2:30 on them and I was getting nervous we wouldn't even make the bus, much less our Vatican appointment. I kid you not when I say I was the last person allowed on the bus. And actually 'bus-a shuttle-a" guy cut me off from entering the bus but Van came to the rescue (he was ahead of me of course) and said hey she's with me and he let me on. Disaster averted...kinda.
It took us over 45 minutes to get to Termini station, which brought us to 2:30. And after a taxi ride to our apartment, we didn't get into the place until 3pm. Vatican Museum tickets were now useless. I called to see if I could sweet talk my way into getting my tickets changed to a later time but it wasn't happening. My whole weekend schedule was now in ruins. So I booked tickets for the next day and we went out in search of some beer and pizza.
Our first real travel hiccup. It only cost us 50 euro and knocked 3 hours off our time in Rome but it still got me thinking. It made me realize that I crammed way too much in for Rome with no room for error. With our Paris trip quickly approaching, the Rome weekend made me realise that I can't plan for everything and being a busy tourist is not the type of traveller I like to be. I like to savor locations and relax. As does Van. Granted, we only had two nights in Rome.
But hey, we were in Rome after all and I wasn't going to let this get me down or let it taint my experience. After a massive pizza and a beer in Campo de Fiori, we were ready to explore the heart of the city.....which is coming up next week! But all of this drama made me realize that I absolutely do not want to over plan for Paris. And so I'm leaning towards skipping Versailles altogether. I love soaking in a city....not rushing around to catch a glimpse of all there is, but rather leisurely wandering the streets and committing the scenes around me to memory. What do you think?
How do you handle travel hiccups? Has it ever ruined a trip for you? Can I skip Versailles? :)
Rome Series:
Heart of Rome Walk
|
Vatican Museum
|
Colosseum
|
Trastevere
|
St. Peter's Basilica
Today, I am super excited to be co-hosting the Fresh Face Blog Hop, with two of my most fave travel bloggers! Fresh Face Friday is such an amazing place to meet new bloggers! Come join in on the fun!
Welcome to the
FRESH FACE FRIDAY BLOG HOP!
Rules for hopping:
1| Follow your host & co-hosts (first 3 links), pretty please!
2| Link up your blog's homepage or Bloglovin' page.
3| Hop around, meet new bloggers, and leave them love!
4| Have fun? Spread the word and share this blog hop with your friends!
5| Want to be a co-host? Click here for more info!
Grab a button and share the blog hop love!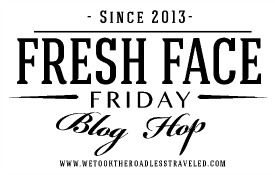 Tweet about this blog hop!
Tweet